There's nothing, I repeat… NOTHING like Canadian long weekends.
.
MUSIC: This long weekend there are a plethora of music scenes to check out if you haven't made plans yet.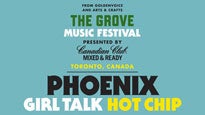 The Grove Music Festival:  This festival has traveled north to Toronto for tomorrow's one day festival.  There are a ton of awesome bands: Phoenix, Hot Chip, Girl Take and many, many more not to be missed.  And since it's located at Fork York (downtown TO), you can easily head to your favourite spot downtown after the shows. Be sure to grab two friends (or more) and take advantage of the 3 for $99 deal that's still on.
Osheaga Music Festival (SOLD OUT): W and I were supposed to go to Osheaga (but unfortunately blew the concert budget on this festival) and it sounds like a killer event happening this weekend! Totally worth the drive to Montreal! Find out more info here.
Oakville Waterfront Festival: This weekend (Aug 2-4th) is the annual, FREE Oakville Waterfront Festival with music, food, rides and lots more.  I hear 54-40 is playing this year. Find out more information at: the OWF facebook page or on twitter.
MUSIC (Looking Ahead): I know we're talking about the Civic holiday weekend here but over the Labour Day weekend there is an amazing "picnic" that need not be missed. For those who don't know what I'm talking about check out the Greenbelt Harvest Picnic online here for more info. Oh… and NEIL (freakin!!!) YOUNG will be performing.
COTTAGING/CAMPING/TRAVELLING:
Be sure to check out my post on my cottage "pack"-fect list and Stylelist's packing tips before you head out for your adventure this weekend.  Some other items that always get forgotten: bug spray, camping chairs, flashlight, wet-wipes, ice, paper towels and band-aids.
WEEKEND READS: Check out these out while you're lakeside, beach- side or staycation-side.
– TECH-TALK: Forbes: Technology is the fastest way for 20-year-olds to get rich quick.
– Fashion and TV: 'The Fashion Fund' TV Competition Heads to Ovation
– URBAN: Converting Alleyways to Liveable Laneways and Countryways
– DIY: Travel Pocket DIY,  Artwork (#Random)
WHATEVER YOU GET UP TO I HOPE YOU HAVE AN AWESOME LONG WEEKEND!