Are you ready for the holiday season?  When it comes to feeling "holiday social" prepared, I find confidence in having the perfect outfit picked out that I know will be comfortable and make me look like a million bucks.  And one trick is dressing to the event. Today's Holiday Guest Blogger Style Series is focused on the one event that can certainly be a tricky one – the office party.  Here are some great tips from Meghan (Playing with Patterns), Krystin (A Girl in Betsy) and Katelyn (Stilettoed to Steeltoed) have to help you plan for the perfect work party outfit that will bring in compliments from all your coworkers while staying professional and office appropriate.
The holiday party season is finally here.  It is a great time to dress up and have fun.  But not too much fun!!  A work party can be the perfect opportunity to socialize with managers or even the "big boss".  By looking and feeling your best, you can improve your visibility and make a lasting impression as a young professional.
Here are some tips for staying professional but stylish at your work party:
Metallic, texture, and blush pink are popular trends this season.  If you're like me and don't have the time or money to buy a new outfit, start with your favourite LBD and add one new "trendy" item like a clutch or a throw.
My favourite way to dress up a look is to add a little bling.  This could be a great statement necklace or a sparkly cocktail ring.  It's important not to go overboard with bling (I know it can be tempting). If you are going to choose a dramatic necklace, keep all other accessories to a minimum.
Red lipstick is great for adding a little glam to your party look…. and it looks great on everyone!
Make sure your dress isn't too short.  It's important that you are representing your best self at a work party so add tights for a more conservative look.
Pairing your dress with a blazer or throw is a great way to keep your outfit professional and warm.
Wearing comfortable heels are key at any party.  For a work party don't wear your sky high stilettos.  Painful heels can ruin your night and it's important for you to look professional.

 
Earrings | LBD | Necklace | Lipstick | Ring | Clutch | Heels
–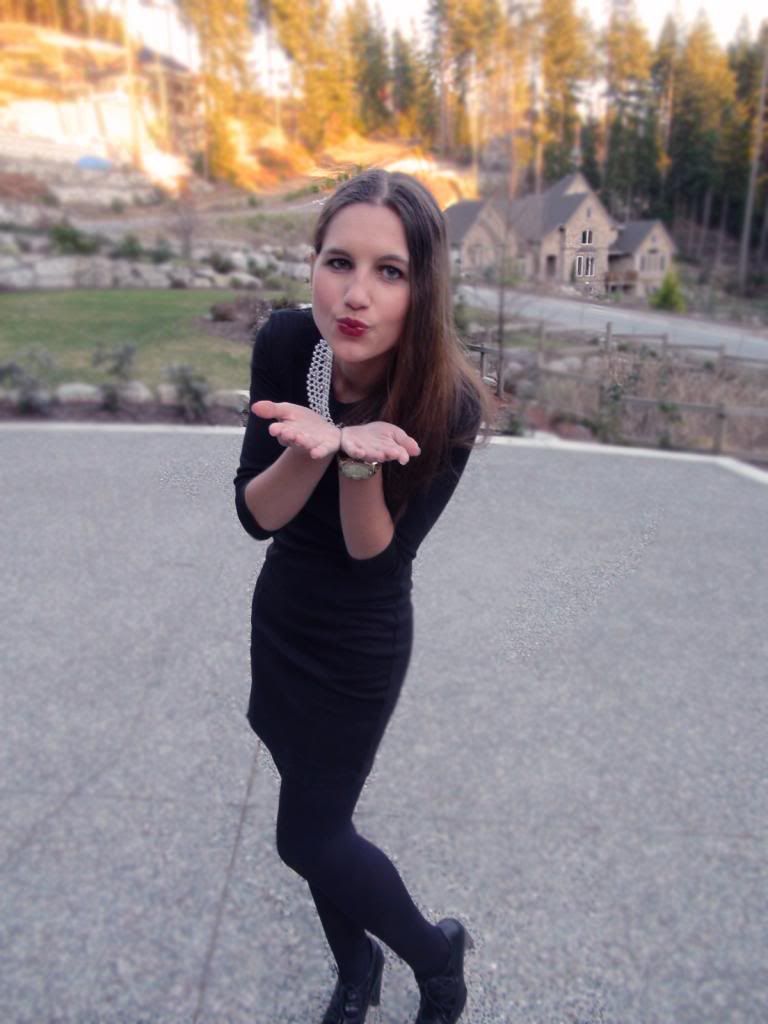 I really love this dress, the cut and the fit of it really surprised me because it is so long and I am not very tall. The necklace topped it off, add a bit of glam to your outfit and you will be good to go. This look could be transitioned from work to play all in one step!
Dress: H&M | Shoes: Spring | Necklace: H&M | Watch: Michael Kors
–
The holiday season is officially here and this is my first holiday look in the series. Metallics are always big around the holidays because they add to the glamour of season. Since metallics have been a big trend this year, you will definitely see them everyone this season, so add a little sparkle to any party with a shimmery sheath like this. If you are afraid you will appear washed out or pale (I feel your pain), be sure to go for either a bold eye or lip. I prefer a bold lip to add a pop of color to my otherwise neutral shimmer. Also, don't forget that accessories are your best friend! Go for something dark to contrast the metallic or if you want to add to the drama choose a brightly colored clutch or shoe.
–
Dress Walter Baker Sample Sale (similar, similar & similar ) // Coat Kate Spade (borrowed from Holly) // Clutch DKNY old (similar &similar) // Shoes Ralph Lauren (similar, similar & similar) // Earrings Chloe & Isabel // Pearls & Bracelet (flea market finds) // Ring (my mom's) // Lips MAC 'Captive'
–
Be sure to check out the next Holiday Blogger Style Series Post: The Festive Holiday Party (the one with egg nog and lots of friends) next week on s e t t i n g SAIL blog.