Although much of fashion's direction is shared on the runway, there are also so many great looks from the real-world runway (i.e. the sidewalk) just outside the shows that are also ample sources of inspiration. I've compiled 6 trends that can easily be translated into everyday wear as worn by the super stylish, themselves.
6 STYLE LESSONS: as worn at NYFW 2014
1) Voluminous Patterned Dresses: 
Don't be afraid to slip into something wider then your usual dress this season. Wider shift dresses in fun and geometric patterns, like this one from Cameo the Label (available shortly) works for a variety of occasions. Comfortable and stylish? You can count me in.
2) Versatile Wardrobe Pieces:
This season the vest is being re-invented thanks to longer lengths and trench-like characteristics. Wearable for the office or play the vest holds new meaning as a wrap dress and as an outerwear piece. How will you be styling yours this fall?
3) Length and Proximity:
While the crop top is still holding strong, especially with its BFF the a-line pleated skirt, it's a no brainer to continue this outfit formula. In anticipation of fall simply be sure to length and continue to balance how tight (to how loose) your pieces are.
4) Mix Unexpected Textures and Tones:
Straight up from the pattern-playing queen herself, Olivia Palermo shows us that you can mix wool blend grays with sparkly silvers and mirrored sunnies. And let's not forget the added leather fringe. Mix and match people! It can work.
5) Play Up Your Basics:
While this certainly isn't a new idea, the Parisian philosophy of incorporating easy (but unique) basics together with classic pieces can certainly boost an otherwise boring looking outfit. I find we all constantly strive for this one, so let's just keep it up.
6) Monotone with A Colourful Punch:
I've been moving towards monochromatic dressing and constantly find Ahn (of 9to5Chich) to be an inspirational mixing style expert at this task. I love how she's paired beautiful basics here (ah! lesson #5!) in an elongating look, unique with sheer details in addition to a subtle hint of colour. A must!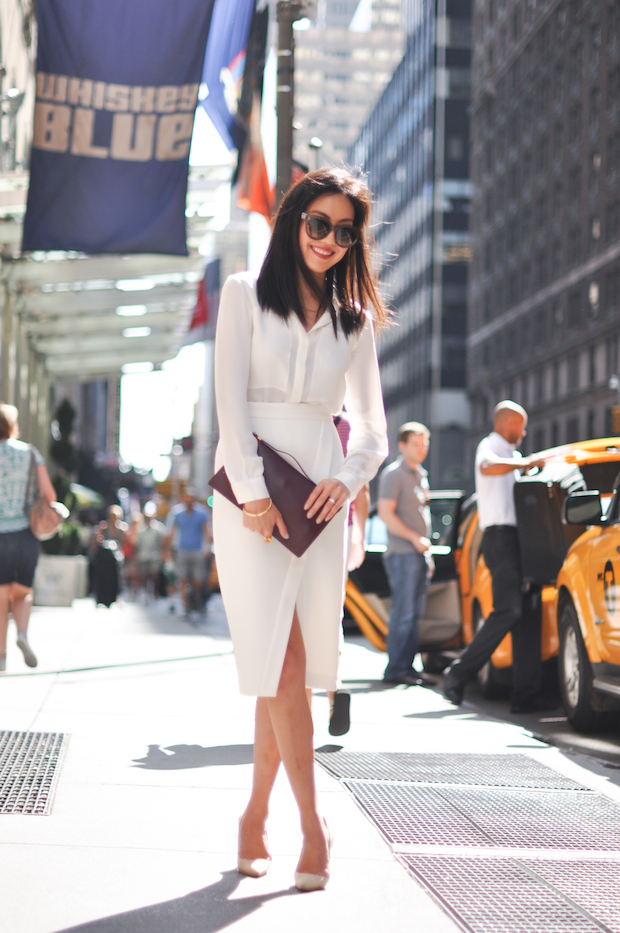 The Take-Away:
Be creative with your closet items this fall! Many of these trends are about mixing your pieces in a smart, yet unique manner to add detail and maximize your wardrobe. 
Which style lesson will you be trying out first?